UPDATED: 9 June 2022
This spreadsheet contains all known tables and memberships of Senior and Junior leagues since since 1890.
Updated to include 2021-22 season and constitutions for the forthcoming 2022-23 season
UPDATES
9 June Brian Coutts has uncovered a missing Archibald Cup winner, Aberdeen Juniors, from 1942-43 season which was played in the opening weeks of the Aberdeenshire Junior season.
He has also found the date and result of the 1954-55 North of Scotland Cupfinal between Elgin City and Caledonian
Brian notes two errors in the winners lists of the Aberdeen Cable Cup(1992-93) and McLeman Cup (2013-14)... both of these were won by Culter and not as originally shown.
31 May I've added a near complete table for the 1940-41 Lanarkshire Junior League. This shows that the champions that season were Wishaw and not Burnbank Athletic as previously shown.
I've added the completed table for the 1927-28 Forfar & District Junior League
Bob Beresford has submitted a few more additions for the Lanarkshire Cup and Lanarkshire Express Cup:
Lanarkshire Cup Winners
In the list of winners the 1881-82 season shows Shotts as winners whereas it was Hamilton Academical that won the cup that season. Shotts were runners up in the first two competitions but never actually won it.
Lanarkshire Cup 1910-11
Semi-final replay
4 Mar 1911 Dykehead v Royal Albert 1-0
Lanarkshire Cup 1912-13
First Round
Dykehead v Albion Rovers (Albion Rovers scratched rather than replay the tie that finished early due to darkness)
Lanarkshire Express Cup 1910-11
First Round
Dykehead v Hamilton Academical (Hamilton scratched)
The original note indicated a bye for these two teams but they were drawn against each other. As Hamilton scratched they did not progress to the semi-final.
Lanarkshire Express Cup 1914-15
1st Round – 2 legs
4 Jan 1915 Albion Rovers v Dykehead 1-0 (1st Leg)
3 Apr 1915 Dykehead v Albion Rovers 1-0 (2nd Leg)
10 Apr 1915 Albion Rovers v Dykehead 2-2 (replay aet, Dykehead won 1-0 on corners)
Lanarkshire Express Cup 1914-15
Semi final – 2 legs
17 Apr 1915 Dykehead v Motherwell 4-0
21 Apr 1915 Motherwell v Dykehead 4-0 (with the tie level at 4-4 over two legs Dykehead refused to play extra time and the tie was awarded to Motherwell)
27 May I've uncovered the dates and results of the two missing first round ties of the 1880-81 Renfrewshire Cup; 9 Oct, Barrhead v Pollok Castle 4-0 and 23 Oct, Sir John Maxwell v South Side 2-6
Stewart Mathers has supplied more results for the following cups:
1886-87 Sauchie Colliery Band Charity Badge
Second Round
2 Apr Hillend Rangers v Tillicoultry 1-10
1888-89 Clackmannanshire Charity Cup
Second Round
19 Jan Alloa Athletic* v Tillicoultry Athletic 0-2 *-note NOT Alva Athletic
19 Jan Alva v Clackmannan 3-1 protest on grounds of rough play upheld. As a result Alva severed their connection with the Clackmannanshire Association.
1888-89 Dunfermline Charity Cup
First Round
27 Oct Strathforth v Broomhall 2-3
1882-83 Fifeshire Cup
Semi-final
10 Feb Cowdenbeath v Burntisland Thistle 3-0
19 May The final table of the 1927-28 Lanarkshire Junior League has been added
13 May Forrest Robertson has amended the round structure of the 1898-99 Atholl Cup. Forrest has also sent me numerous new clubs from the 19th Century and so I'm in the process of reviewing the Club List. This will take place over the coming months.
23 April I've added a number of results to the 1950-1967 seasons of the North of Scotland Cup. Any additions for these seasons are more than welcome!
21 April North of Scotland Cup results from 1888-1950 and 1967-2022 are now on the site and I'll be working on filling in the missing seasons (1950-1967) over the coming weeks
12 April Alex Jack Cup complete results from 1988 to 2022 added
11 April Ian Coull has noted an amendment to the 1958-59 Dewar Shield. The St Johnstone v Alloa which was noted as being the 'Final' was actually the semi-final, the other semi was between Arbroath and Keith. The final tie between Saints and Arbroath is still to be unearthed.
6 April Aberdeenshire Cup UPDATED to include the 2000-2022 seasons
Alba Cup results added
5 April North Region Junior League results grids for seasons 1968 to 1975 added, many thanks to Jim Barrie for supplying thses
Highland League Cup results from 1946 to date are now on the site. There are a number of results, mostly Group matches, from the 1950s to mid 1960s that are being elusive...
29 March Stewart has supplied many more results for the first season of the Lanarkshire Cup
28 March Stewart Mathers has sent a number of Ayrshire Cup results for the early 1880s and a possible result for the Peterhead v Deveronvale Bell's Scotch Cup semi-final tie in 1975.
I've also corrected an error in the winners list of the North of Scotland Cup, Cove Rangers of course weren't winners in 2015 as it was Brora Rangers!
25 March I've made a tentative start on the Highland League Cup and the results for the 1946-1951 editions are now on the site.
Ken has sent me the missing 2nd leg of the 1946-47 Aberdeenshire Cup semi-final between Huntly and Buckie Thistle
24 March I've added the results of several Highland pre-season and invitational competitions: Inverness Tournament (1978-79), Skol Lager Cup (1982-83), Clachnacuddin Tournament (1995-96), McKessack Quaich (1987-1993), Norfrost Cup (1995-1999), Buchan Cup (1990-1997), Rhys Bendel Memorial Trophy (1992-1996), Banff Tournament (1992-1994) and the Stonehaven Tournament (1991-1994)
23 March I've added the results of the Bell's Scotch Cup which was a sponsored competition for Northern clubs that existed throughout the 1970s. I'm still missing one or two results so if anyone acan fill in the blanks please contact me.
Also added are the resuls of the Drybrough Highland Cup. Note that the seasons of these are one out from what are previously recorded.
21 March Thanks to Ken Morton, the Peterhead club historian, for supplying the results of the 2 legs of the 1946-47 Aberdeenshire Cup semi-final between Peterhead and Aberdeen University
Annandale Cup, Aberdeenshire Shield, Border Cup and Southern Counties Cup updated
18 March North of Scotland Cup dates and results for 1935-1950 added
17 March North of Scotland Cup dates and results for 1924-1935 added
16 March North of Scotland Cup I've been working on this competition and the page now covers virtually all of the dates and results for the period from 1888 to 1924. I'll continue working through this cup over the coming weeks.
The Central League Cup for 1919-20 season is now complete, the Stenhousemuir beat Alloa 1-0 in the semi which was replayed on 7 April 1920. Thanks also to Alan Brown for confirming that East Fife scratched to East Stirlingshire in Rd2.
14 March Lanarkshire Cup updated
9 March Aberdeenshire Cup dates and results for 1990-2000 added. Note that the 1997-98 edition was briefly renamed the Aberdeenshire Cup Centennial to celebrate the 100th competition.
7 March I've extended the results coverage of the Aberdeenshire Cup to 1990 but the 1949-1964 period still needs some work. I've also included the pre-season Centenary Cup which was held to celebrate the 100th year of the Association.
2 March Results for the Scottish Brewers Challenge Cup, a pre-season tournament organised by Annan Athletic. Thanks again to Peter Rowan for these details.
1 March I've been endeavouring to make sense of the Western League and Western Cup competitions for 1919-1922 seasons. The 1919-20 Cup overran considerably and was only completed in late April 1921, only a couple of days before the official close of the 1920-21 season! Consequently the 1920-21 competition was to be played on a knock-out basis but it appears to have been abandoned at the second round stage. In 1921-22 it was again played as a KO but again appears to have been unfinished. Any additional info is most welcome!
SCOTTISH JUNIOR ATTENDANCE RECORDS
LAST UPDATE: 2 June 2022
Very much a work-in-progress, Douglas Gorman has compiled an excel spreadsheet of the record attendances of Scottish Junior clubs.
If you can contribute to this ongoing project in any way please contact me
THE WINNERS
Fifth Edition now available.
Listing the champions of over a thousand league and non-league competitions, this edition, the first in nearly a decade now features the principal winners of amateur, welfare and juvenile football. Women's football is also included
Copies available from Lulu.com (NOTE the option to change the price from US$ to GBP is at the foot of the page)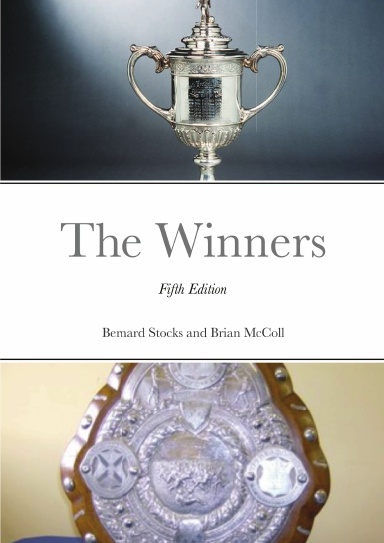 SCOTTISH JUNIOR CUP RESULTS 1886-date
1886-1900 **UPDATED 13 December 2021**
1900-1910 **UPDATED 9 February 2022**
1910-1920 **UPDATED 4 May 2021**
1920-1925 **UPDATED 24 April 2021**
1925-1930 **UPDATED 12 April 2021**
1930-1940 **UPDATED 9 October 2021**
1940-1950 **UPDATED 17 April 2021**
1950-2012 see Stewart's books
2012-date Wikipedia entries
QUERIES LIST QUERIES LIST 1920s
Stewart Davidson has been working on this over the last 20 years and has published books covering the years from 1950 onwards (see the advert below for more details). To complete the project he has generously allowed the SFHA to host the remaining years from 1886 to 1950. There are also two QUERIES LISTS of ties for which we have no results for, please have a look, ANY help regarding these are most welcome. Stewart would also like to thank the following for their input over the years: Tom McGouran, Stuart Robertson, John Aitken, Gordon Baird, Eaaton Thain, Gordon Hunter, Harry Smith, Brian McColl, Peter Cogle, Alick Milne, Malcolm Pagan, Paul Crankshaw, Alun Urquhart, David Fasken. Thanks to Bob Beresford for his corrections to the various Shotts clubs' results and Stuart McBay for his input on Clydebank.
WEST OF SCOTLAND JUNIOR CUP RESULTS 1931-date
Tom McGouran is researching the above competition with the intent of publishing the work soon. To this end he has compiled a Queries List. Please have a look, any help is most welcome
THE SCOTTISH NON LEAGUE REVIEW
was at the forefront of publishing research on Junior and Senior non-league football, the annual SNLR yearbook, the 'Bible of Non League football', being a must have.
Stewart Davidson decided to 'retire' after 30 years at the helm and has a number of his publications still available for sale at discounted prices. These booklets are hard to come by and contain a plethora of historical material; club histories, sourcebooks, league and cup histories including a complete record of the Scottish Qualifying Cup. Also available are the complete Scottish Junior Cup results from 1950 to date.
Stewart has UPDATED his list of the available books, please take a look and grab yourself a bargain!
JUNIOR SCOTLAND 1889 TO 2019: THE PLAYERS AND MATCHES
Douglas Gorman and Tom McGouran have compiled the most comprehensive record of Scotland's junior international football team, Junior Scotland 1889 to 2019: The Players and Matches is available from LULU.COM
An excel spreadsheet giving a summary account of this (dates, line-ups, scorers etc) can be accessed HERE
To help fill in the missing information, they have compiled a NEEDS LIST. Please have a look and if you can help in any way please email me and I will forward it on to them.