Additions and updates
5 December Wick & Pulteneytown Senior and Junior Leagues added. Existing prior to WWI these competitions were Wick Academy's first foray into league football
UPDATED North of Scotland Junior League pre-WWI tables and memberships
UPDATED Scottish League Football Database
1 December Angus Junior League tables for 1959-60 and 1960-61 seasons added
30 November Aberdeenshire League UPDATED Between 1948 and its demise in 1953, the league was mainly competed for by the reserve sides of Highland League clubs and was played over two series.
Scottish League Football Database UPDATED
23 November Scottish League Football Database UPDATED
20 November Tom McGouran has added more Scottish Central Junior League tables for the 1939-1949 period
Scottish League Football Database UPDATED
17 November Scottish League Football Database UPDATED
14 November Alun Urquhart has supplied the final table for the 1925-26 First Division of the Scottish Junior League while Tom McGouran has sent me the 1948-49 Scottish Central Junior League Division A table
12 November Scottish League Football Database added. This excel workbook lists the records of all the leagues featured on this site as well as some that are not, ie the Scottish League, SPL and SPL as well as all of the east of Scotland Junior leagues since the 1890s. The compilation of this spreadsheet has helped identify some errors in the leagues' dedicated pages within the site (eg the correct names of certain clubs) and I intend to amend these in due course. The workbook is split into league-wise and by club-wise. The first sheet is self-explanatory while the latter enables viewers to see at a glance every clubs' complete league career. These spreadsheets will be updated as and when more information comes in.
8 November Stewart Mathers has highlighted the Scottish League re-elections noting that Airdrieonians, Victoria United and Dundee Wanderers were also involved in the 1897 voting while the 1896 vote involving Linthouse and Wishaw was actually a recount and not a second ballot as originally noted.
4 November Peter Rowan has highlighted two incorrect match dates Celtic v Third Lanark (1896-97 Glasgow League) and Brechin v Dundee (1970-71 Forfarshire Cup)
28 October Peter Rowan has amended the 1935-36 Penman Cup and 1934-35 City Cup
21 October Stewart Mathers has sent me more results for the Aberdeenshire Charity Cup
9 October UPDATED Peter has highlighted some more dates... Renfrewshire Cup [1922-23 Morton v St Mirren], Dunedin Cup [1922-23 Hearts v Falkirk] and Glasgow Cup [1918-19 Celtic v Clyde]
Bob Beresford has amended two Shotts United results in the Scottish Junior Cup from 1938-39 (v Dumbarton Harp) and 1939-40 (v Royal Albert)
Jack Little has uncovered a result for the 1892-93 Greenock Charity Cup, Partick Thistle and Dykebar played out a draw in their first round tie before Thistle won the replay.
7 October UPDATED Peter Rowan has amended the 1912-13 North-Eastern Cup
23 September UPDATED Ayrshire Cup (1870s and early 1880s) and the 1902-03 Inter City League
21 September UPDATED I've added a number of dates and results to the 19th century Renfrewshire Cup and Renfrewshire Victoria Cup competitions.
20 September A slight tweak to the Forfarshire Cup page. Dundee fielded their 'A' side in a number of competitions and these have been noted as such.
18 September Another Scottish 2nd XI Cup addition, Gordon Hunter notes that Airdrieonians had a walk-over against Motherwell in 1910-11.
Peter Rowan has brought my attention to matches played during March and May 1894 for the Edinburgh City Cup, a one-off competition organised to raise funds for the East of Scotland FA. The four principal city clubs initially entered but Hearts withdrew and after three matches Hibernian emerged as the winners.
8 September Tom McGouran has supplied the date and result of the Queen's Park v Albion Rovers tie in the 1921-22 Scottish 2nd XI Cup
6 September Craig Tyreman has added more info to the 1921-22 Scottish 2nd XI Cup
12 August I've noted that the West results for the third round of the 1935-36 Scottish Junior Cup were missing, these have now been added.
26 July UPDATED Scottish 2nd XI Cup. Jack Little has added more dates and results of some of Partick Thistle's matches in 1890-91, 1893-94, 1900-01, 1901-02 and 1975-76.
23 July Due to other commitments I'm sorry about the total lack of activity this month. However there are a large number of UPDATES thanks to Brian Doyle (Northern League 1904-05) and Tom McGouran (Scottish Alliance 1894-95 & 1921-22, Scottish Combination 1900-1903 and Scottish 2nd XI Cup 1900-01)
29 June Marbain sent me another table, a near complete one for the Lanarkshire Junior League of 1895-96 to which I've added results for the the final three fixtures. I've also corrected the 1892-93 table.
27 June Hamilton & District Junior League table for 1903-04 has also been added by Marbain
24 June UPDATED Musselburgh Junior League final table for 1898-99 has been kindly supplied by Marbain
20 June UPDATED Scottish Combination. More Bo'ness results have been added to the 1936-37 competition.
2 June UPDATED West Region Junior League Division 2 tables for 2010 -11 and 2011-12 have been amended as have the winners lists for the Cowdenbeath Cup, Larkhall Charity Cup and Lochgelly Shield.
5 May The East of Scotland League table for 1972-73 has been amended following new information uncovered by John Clayton. Previously it was reported that Edinburgh University had been excluded from the final table when it was actually Heriot-Watt University that had been suspended. Also Raith Rovers reserves withdrew from the second stage of of the 1966-67 competition.
4 May Some corrections have been made to pages featuring the Dundee & District Junior League, Aberdeen & District Junior League, North Region Junior League and Tayside Region Junior League
Kevin Robertson, match secretary of Neilston has noted from an old photograph that the 1905-06 Carswell Cup was won by Neilston Victoria
THE WINNERS
Fifth Edition now available.
Listing the champions of over a thousand league and non-league competitions, this edition, the first in nearly a decade now features the principal winners of amateur, welfare and juvenile football. Women's football is also included
Copies available from Lulu.com (NOTE the option to change the price from US$ to GBP is at the foot of the page)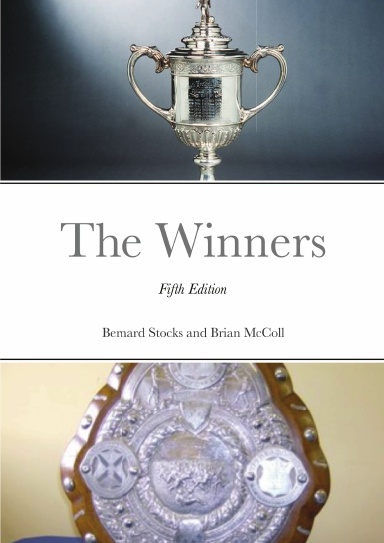 SCOTTISH JUNIOR CUP RESULTS 1886-date
1886-1900 **UPDATED 20 April**
1900-1910 **UPDATED 4 May**
1910-1920 **UPDATED 4 May**
1920-1925 **UPDATED 24 April**
1925-1930 **UPDATED 12 April**
1930-1940 **UPDATED 9 October**
1940-1950 **UPDATED 17 April**
1950-2012 see Stewart's books
2012-date Wikipedia entries
QUERIES LIST QUERIES LIST 1920s
Stewart Davidson has been working on this over the last 20 years and has published books covering the years from 1950 onwards (see the advert below for more details). To complete the project he has generously allowed the SFHA to host the remaining years from 1886 to 1950. There are also two QUERIES LISTS of ties for which we have no results for, please have a look, ANY help regarding these are most welcome. Stewart would also like to thank the following for their input over the years: Tom McGouran, Stuart Robertson, John Aitken, Gordon Baird, Eaaton Thain, Gordon Hunter, Harry Smith, Brian McColl, Peter Cogle, Alick Milne, Malcolm Pagan, Paul Crankshaw, Alun Urquhart, David Fasken. Thanks to Bob Beresford for his corrections to the various Shotts clubs' results and Stuart McBay for his input on Clydebank.
WEST OF SCOTLAND JUNIOR CUP RESULTS 1931-date
Tom McGouran is researching the above competition with the intent of publishing the work soon. To this end he has compiled a Queries List. Please have a look, any help is most welcome
THE SCOTTISH NON LEAGUE REVIEW
was at the forefront of publishing research on Junior and Senior non-league football, the annual SNLR yearbook, the 'Bible of Non League football', being a must have.
Stewart Davidson decided to 'retire' after 30 years at the helm and has a number of his publications still available for sale at discounted prices. These booklets are hard to come by and contain a plethora of historical material; club histories, sourcebooks, league and cup histories including a complete record of the Scottish Qualifying Cup. Also available are the complete Scottish Junior Cup results from 1950 to date.
Stewart has UPDATED his list of the available books, please take a look and grab yourself a bargain!
JUNIOR SCOTLAND 1889 TO 2019: THE PLAYERS AND MATCHES
Douglas Gorman and Tom McGouran have compiled the most comprehensive record of Scotland's junior international football team, Junior Scotland 1889 to 2019: The Players and Matches is available from LULU.COM
An excel spreadsheet giving a summary account of this (dates, line-ups, scorers etc) can be accessed HERE
To help fill in the missing information, they have compiled a NEEDS LIST. Please have a look and if you can help in any way please email me and I will forward it on to them.