UPDATES
2 December 1927-28 Highland League results added.
1927-28 Inverness Charity Cup and Aberdeenshire Charity Cup updated and 1927-28 Inverness Cup added
1 December 1925-26 and 1926-27 Highland League results added.
Elgin District Cup, Elginshire Charity Cup, Inverness Cup and Inverness Charity Cup updated.
Many thanks to Ian Coull for supplying a number of Buckie Thistle's results in the above competitions
Also added are the 1925-26 Inverness Rotary Cup, the 1926-27 Infirmary Cup (a fund-raising competition for Inverness Northern Infirmary) and the Nairnshire Charity Cup(AKA Stuart Cup) which was held between April 1925 and April 1926
28 November 1924-25 Highland League results added.
27 November 1923-24 Highland League results added.
Elgin District Cup, Elginshire Charity Cup, Inverness Cup updated
26 November 1922-23 Highland League added.
Elgin District Cup, Elginshire Charity Cup, Inverness Cup updated
23 November Dates and results for the Highland League from 1893-1922 added. There are a few still to find yet so any help is welcome. I'll continue to add subsequent seasons over the coming days.
Also updated are a number of other related pages; Elgin District Cup, Elginshire Charity Cup, Eastern League, Aberdeenshire League, Ross-shire Junior Cup, Inverness Cup, Pattison Cup and Inverness Charity Cup
25 October The final table South Section of the 1968-69 Ayrshire Region Junior League added.
23 October Border League results grids for the period 1893-1953 are now 99% complete, only a few matches still needing to be found.
The Border League of 1893-94 has proven troublesome. Due to the sparse reporting of matches in the region at this time, it has proved impossible to collate all the matches during this season. The results grid, therefore, has been compiled using some conjecture.
21 October Paul Shield updated thanks to HibeeJibee.
Border Senior League and Border Amateur League results for seasons 1910-1914 added.
19 October Paul Shield added. This trophy was awarded to the winners of the Border League competitions of 1896-1898 and 1902-1923, also to the winners of the 1923-24 East of Scotland League as well as the top Border club post-WWII. During the intervening periods (1898-1902 and 1924-1934) it was competed for as a knock-out competition.
18 October Completed results grids added for the 1906-07 Border Senior League and Border Amateur League.
1906-07 Border Cup (First round, 12 Jan, Coldstream v Swinton 7-0) updated.
16 October Completed results grids added for the 1905-06 Border Senior League plus more results for that season's Border Amateur League
1905-06 Border Cup (First round Vale of Leithen v Newcastleton wo-scr) and East of Scotland Consolation Cup (First round Selkirk v Vale of Leithen wo-scr) updated.
15 October Completed results grids added for the 1902-03 and 1903-04 Border Senior League
John Aitken has supplied the memberships and winners of the Perth Junior League of 1891-1899 vintage.
11 October Completed results grids added for both the 1904-05 Border Senior League and Border Amateur League. The winners list for the Border Senior League for that season showed Selkirk as champions instead of Peebles Rovers, the rightful winners.
9 October Several Berwick-based competitions added: Short Cup, W Shiels Dods Cup, Shielfield Cup, Berwick Athletic Medals, Berwick Charity Cup and Berwickshire Senior Charity Cup The 1904-05 Cairns Charity Cup is also included here.
Results added for the 1907-08 Border Senior League and Border Amateur League
Club Directory amendments: Chirnside United, Chirnside Bridge Swifts, Peebles FC and Peebles Rovers
3 October East of Scotland League, East of Scotland Qualifying Cup, Border Cup, Border League, Eastern League and King Cup results and tables for seasons up to 1957 all updated
28 September results for the 1955-56 East of Scotland League, East of Scotland Qualifying Cup and King Cup added. The draw for the ultimately abandoned 1955-56 City Cup also added
26 September results for the 1953-54 East of Scotland League, East of Scotland Qualifying Cup, King Cup and Border Cup added.
24 September results for the 1952-53 East of Scotland League, East of Scotland Qualifying Cup, King Cup, Border League and Border Cup added.
John Aitken has compiled an updated copy of Towns, Fields and Clubs of Fife
22 September results for the 1951-52 East of Scotland League, East of Scotland Qualifying Cup, King Cup and City Cup added.
In 1951-52, a Border League championship for which the Paul Shield was awarded, was organised with standings being based on EoSL results
19 September results for the 1950-51 East of Scotland League, East of Scotland Qualifying Cup, King Cup and City Cup added.
17 September results for the 1949-50 East of Scotland League, East of Scotland Qualifying Cup, King Cup and City Cup added.
16 September results for the East of Scotland League for seasons 1947-1949 and the 1946-1949 seasons of the East of Scotland Qualifying Cup have been added. The results for the 1948-49 City Cup have also been amended.
Neilston sectretary, Kevin Robertson, has noted that Neilston FC dropped the Juniors moniker from their name at the end of 2019-20 season.
11 September East of Scotland League results for 1945-1947 added. In 1945-46 season, the competition was officially known as the Emergency Trophy
10 September I've added results grids for the East of Scotland League for seasons 1923-1940 and 1954-55
8 September I've uncovered three earlier winners of the Kirkcaldy & District Amateur League, the formation date of which has now been pushed back from 1930 to 1927...
1927-28 Bennochy Works
1928-29 National Rovers
1929-30 Waverley
6 September a belated thanks to Robert Hosie for uncovering the missing Kilwinning 1 Shettleston 0, first round tie of the 1976-77 Haddow Jubilee Cup. Sorry Robert!
30 August The Arbroath Junior League was a supplementary competition held between 1951 and 1956, the winners being awarded both the Chapman Cup and Duncan Shield. The first edition was held over June and July 1951 as part of the Festival of Britain celebrations.
Winners of this league were as follows...
1950-51 Arbroath Anchorage
1951-52 Arbroath Anchorage
1952-53 Arbroath Anchorage
1953-54 Arbroath Victoria
1954-55 Arbroath Victoria
1955-56 Arbroath Victoria
... and known results were...
1950-51
23 Jun Ashdale v Vics 3-3
25 Jun Westburn v Anchorage 1-2
27 Jun Westburn v Ashdale 3-3
29 June Vics v Anchorage 1-0
2 Jul Anchorage v Ashdale 3-1
4 Jul Vics v Westburn 2-2
1951-52
6 Aug Anchorage v Vics 0-1
13 Aug Westburn v Vics
20 Aug Ashdale v Anchorage 0-2
3 Sep Anchorage v Westburn 3-0
11 Jun Woodside v Ashdale 2-2
14 Jun Woodside v Anchorage 3-6
21 Jun Anchorage v Ashdale 6-1
Ashdale v Woodside 3-2
Vics withdrew
Westburn changed their name to Woodside in March 1952
1952-53
21 Mar Anchorage v Vics 0-1
6 Apr Woodside v Anchorage 2-2
30 Apr Ashdale v Woodside 6-2
27 May Ashdale v Anchorage 0-3

1953-54
26 Dec Vics v Ashdale 9-4
9 Jun Anchorage v Woodside 6-2
11 Jun Vics v Anchorage 4-2
12 Jun Woodside v Ashdale 3-2
14 Jun Ashdale v Anchorage 2-5
18 Jun Vics v Woodside

1954-55
30 Aug Ashdale v Woodside 3-2
30 Aug Vics v Anchorage 2-1
1 Jun Vics v Ashdale 4-2
Woodside resigned in March 1955
1955-56
3 Aug Anchorage v Ashdale 2-2
5 Oct Ashdale v Vics 1-7
2 May Vics v Anchorage 6-0
24 August Inter-County League of 1905-06 and Inter-County Shield of 1906-07 updated
26 July Jock Gardiner has compiled two spreadsheets. One shows the constitutions of the leagues within the Pyramid, the second is a record of all the non-league clubs entering the Scottish Cup since the abolition of the Qualifying Cups in 2007.

David Ross has supplied a number of Junior attendance records amendments, as follows,
Rugby Park I have 25,331 same fixture
Stark's Park I have 15,411 same fixture
Shawfield, 24,579 for same fixture but also 25,000 for Junior Cup semi 7/4/45, Burnbank Athletic 1 Pollok 0, a then (short-lived) record for a semi-final
Tynecastle 22,128 20/5/33 Final 1st game Yoker Athletic 0 Tranent Juniors 0. My notes say "record Edinburgh junior crowd at that time."
I have Easter Road record as 33,542, Junior semi 1st game 25/4/48 Bo'ness United 0 Shawfield 0. Easter Road game in file is 12/4/71, not 1952
Brockville 17,000 Junior semi 17/4/65 Linlithgow Rose 1 Kilsyth Rangers 0. My notes say "ground record for junior match"
Park View, Fauldhouse. 16/3/46 Junior Cup QF 10,400 Fauldhouse United 1 Blantyre Vics 1

Kingshill Park, Forth. 14/3/81 Junior Cup QF 2,324 Forth Wanderers 2 East Kilbride Thistle 1
Blairgowrie. I have 5,200 same fixture
Thornton Hibs. I have 9,000 same fixture
Loch Park. No figure but I have a note of a new ground record (i.e. more than game v Dunbar) for Junior Cup QF 20/4/63 Glenafton Athletic 5 Cumnock Juniors 0
Millburn Park. I have a note of 5,034 Junior Cup QF 21/3/70 Vale of Leven 1 Penicuik Athletic 3 as ground record for a junior match
Cathkin. I have 17,000 Junior Cup Final 2nd replay 7/6/14 Larkhall Thistle 1 Ashfield 0
23 July John Aitken's book West of Scotland Juniors 1880-2023 is now available for download.
20 July Paul Alexander has compiled a 'League Tracker' which highlights every club's league career since 1923. Through compiling this he noted that Aberdeen East End were Division 2 champions of the 1984-85 North Region Junior League, not Lads' Club.
17 July Stewart Mathers has sent me the winners of the pre-WWI Fraserburgh Challenge Cup.
Thanks also to Paul Alexander.
7 July John Aitken has compiled 2023-24's guide to the Football Grounds of Scotland.
5 July Douglas Gorman has noted that The Spartans, not Whitehill Welfare, actually won the City Cup of 1997-98 defeating Livingston 2-1 at Almondvale on Monday 11 May 1998.
26 June A belated update for the UK Amateur International Football book! Craig Tyreman has unearthed a Welsh Trial match from 1930.
23 January 1930
at Tufnell Park, London
Reds v Blues 3-1 (HT 1-0) (T Jones, Rowlands, Evans : Cotter)
Reds: W Lewis, AS Jones, KC Pullen, H Etheridge, D Phillips, G Davies, Trevor Jones, DB Evans, HR Rowlands, AT Bush, TW Jones
Blues: J Roberts, CV George, G Theodos, D Mourne, GB Evans, G Gilbey, R Vale, MW James, L Cotter, GD Williams, W Piper-Cooke
Mark Stevens has noted that the 2008-09 Fife-Tayside Inter Regional Cup was awarded to Tayport after Glenrothes were found to have played a suspended player, Benny Andrew, in the final.
11 June Cup-Winners' Shield added. This competition is open to the winners of the Alba, Alex Jack and Strathclyde Cups, the winner being awarded a place in the following season's Scottish Cup.
8 June David Allan has noted a missing 1877-78 Edinburgh Cup first round tie, Thistle v Swifts. Also the Hibs v Hanover result was actually 3-0 on 27 October 1877 and not the 22 Sep match.
All league pages updated to 2022-23 season
Off topic, the distinct lack of updates over the past few months has been due to me working on a new book, British Ice Hockey Records 1896-2023, running at over 290 pages, it lists virtually EVERY final league table and play-off result of every season since 1896 from the to tiers down to the 4th and 5th levels. It also covers the women's competitions since 1983, Irish championships since 1939 and has a comprehensive listing of all competitions and their winners. I believe it is the first book of its kind to and copies can be obtained from AMAZON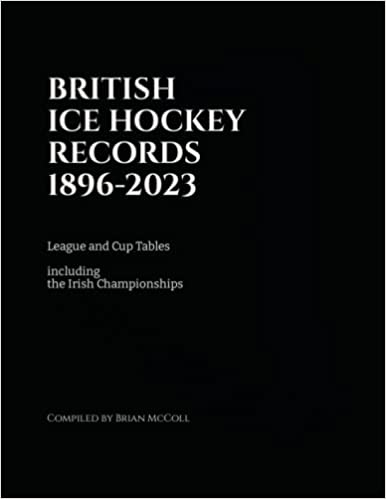 UPDATED: 25 October 2023
This spreadsheet contains all known tables and memberships of Senior and Junior leagues since since 1890.
Updated to include 2022-23 season and constitutions for 2023-24
ALL-TIME SCOTTISH CLUB DIRECTORY
UPDATED: 9 October 2023
Extensive listing of virtually every Senior and Junior club to have existed since the 1850s
SCOTTISH WOMEN'S LEAGUE DATABASE
UPDATED: 8 June 2023
This spreadsheet contains all known tables and memberships of the national women's leagues since 1972. A separate tab also lists each club's record season-by-season
All corrections, amendments and additions, especially for the 1972-1982 period are most welcome!
SCOTTISH JUNIOR ATTENDANCE RECORDS
UPDATED: 26 July 2023
Very much a work-in-progress, Douglas Gorman has compiled an excel spreadsheet of the record attendances of Scottish Junior clubs.
If you can contribute to this ongoing project in any way please contact me
SCOTTISH JUNIOR CUP RESULTS 1886-date
1886-1900 **UPDATED 12 March 2023**
1900-1910 **UPDATED 12 March 2023**
1910-1920 **UPDATED 12 March 2023**
1920-1925 **UPDATED 12 March 2023**
1925-1930 **UPDATED 13 March 2023**
1930-1940 **UPDATED 9 October 2021**
1940-1950 **UPDATED 5 March 2023**
1950-2012 see Stewart's books
2012-date Wikipedia entries
QUERIES LIST QUERIES LIST 1920s
Stewart Davidson has been working on this over the last 20 years and has published books covering the years from 1950 onwards (see the advert below for more details). To complete the project he has generously allowed the SFHA to host the remaining years from 1886 to 1950. There are also two QUERIES LISTS of ties for which we have no results for, please have a look, ANY help regarding these are most welcome. Stewart would also like to thank the following for their input over the years: Tom McGouran, Stuart Robertson, John Aitken, Gordon Baird, Eaaton Thain, Gordon Hunter, Harry Smith, Brian McColl, Peter Cogle, Alick Milne, Malcolm Pagan, Paul Crankshaw, Alun Urquhart, David Fasken. Thanks to Bob Beresford for his corrections to the various Shotts clubs' results and Stuart McBay for his input on Clydebank.
WEST OF SCOTLAND JUNIOR CUP RESULTS 1931-date
Tom McGouran is researching the above competition with the intent of publishing the work soon. To this end he has compiled a Queries List. Please have a look, any help is most welcome
JUNIOR SCOTLAND 1889 TO 2019: THE PLAYERS AND MATCHES
Douglas Gorman and Tom McGouran have compiled the most comprehensive record of Scotland's junior international football team, Junior Scotland 1889 to 2019: The Players and Matches is available from LULU.COM
An excel spreadsheet giving a summary account of this (dates, line-ups, scorers etc) can be accessed HERE
To help fill in the missing information, they have compiled a NEEDS LIST. Please have a look and if you can help in any way please email me and I will forward it on to them.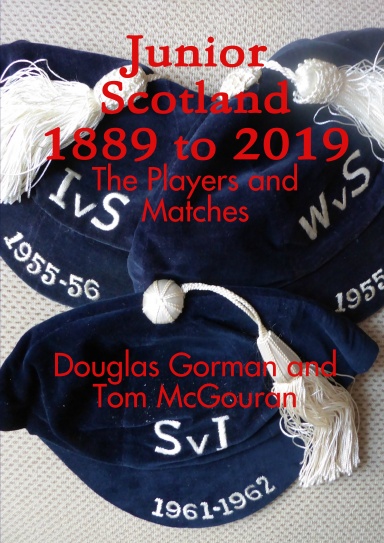 SCOTTISH FOOTBALL LEAGUE INFO APP
Developed by Stewart Mathers for Android devices
Information on all past and present league clubs, from Aberdeen to Vale of Leven
Images of current club strips or that worn by former clubs prior to leaving the league
Club League appearances and titles summary
Selectable season-by-season club final standings for quick full table and results access
Miscellaneous records for both Tier 1 and All Tiers leagues, e.g. highest win, defeat etc.
Display of historic ground locations, where known, on present and old offline maps
Quick launch of clubs' official websites and history pages
League tables and results for all divisions from 1890 to 2022
Table modes for Home & Away records, Goal Ave. or Difference (season specific)
League date navigation for viewing table standings and results for any match day
Colour coded Elected, Demoted, Promoted and Relegated clubs
Full end-of-season play-off results
Club's season league results options of All, Home, or Away display format
Fifth Edition now available.
Listing the champions of over a thousand league and non-league competitions, this edition, the first in nearly a decade now features the principal winners of amateur, welfare and juvenile football. Women's football is also included
Copies available from Lulu.com (NOTE the option to change the price from US$ to GBP is at the foot of the page)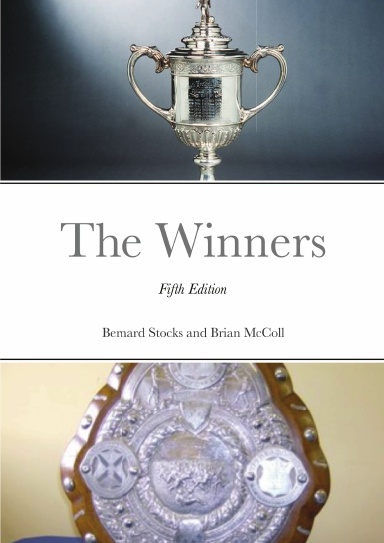 THE SCOTTISH NON LEAGUE REVIEW
was at the forefront of publishing research on Junior and Senior non-league football, the annual SNLR yearbook, the 'Bible of Non League football', being a must have.
Stewart Davidson decided to 'retire' after 30 years at the helm and has a number of his publications still available for sale at discounted prices. These booklets are hard to come by and contain a plethora of historical material; club histories, sourcebooks, league and cup histories including a complete record of the Scottish Qualifying Cup. Also available are the complete Scottish Junior Cup results from 1950 to date.
Stewart has UPDATED his list of the available books, please take a look and grab yourself a bargain!